200 M.P.H. & 2012: ICE AGE – Trailer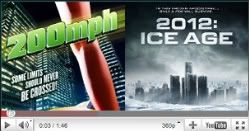 Erwartungen:
200 M.P.H. & 2012: ICE AGE
Trailer
Regie:
Cole S. McKay / Trey Stokes
Cast:
200 M.P.H.
Jaz Martin
Hennely Jimenez
AnnaMaria Demara
2012: Ice Age
Patrick Labyorteaux
Julie McCullough
Nick Afanasiev
200 M.P.H.
: Nach dem Tod seines Bruders gerät ein Amateurrennfahrer in die heißen Kreise der illegalen Street Racing-Szene…
2012: Ice Age
: Eine neue Eiszeit breitet sich über die Welt aus und reißt eine Familie auseinander…
---
---
Trash Time! Trailer-Doppelpack zu zwei der neuesten Abfallprodukte aus dem Hause The Asylum, die pünklich zum Kinostart von
Fast & Furious Five
ihre Version des ersten Teils des High Speed-Franchise auf den Markt schmissen und die mit
2012: Ice Age
zur zweifachen
Roland Emmerich
-Kopie ansetzen und sowohl
2012
, als auch
The Day after Tomorrow
mocken. Warum die Gurkenschmiede nicht gleich noch 'ne riesige Echse und 'ne außerirdische Invasion mit dazu gepackt hat bleibt ihr Geheimnis. Zumindest 'n Patriot wird sich in dem Schund finden lassen, womit die Emmerich-Werkschau dann wenigstens zur Hälfte untergebracht wäre. Ansonsten bleibt natürlich in beiden "Filmen" alles wie gehabt: mieseste Effekte, hölzernste Schauspieler.
Bewerten & Teilen
---