TO ROME WITH LOVE – Trailer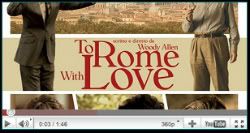 Erwartungen:
TO ROME WITH LOVE
Trailer
Regie:
Woody Allen
Cast:
Ellen Page
Woody Allen
Penélope Cruz
Jesse Eisenberg
Alison Pill
Alec Baldwin
Greta Gerwig
Roberto Benigni
Ornella Muti
Judy Davis
To Rome with Love
verknüpft verschiedene Handlungsstränge, so reist ein Elternpaar in die Ewige Stadt, um die Familie des italienischen Verlobten ihrer Tochter kennenzulernen, während der einheimische Leopoldo mit einem Filmstar verwechselt wird und ein Architekt sich mit seinen Freunden trifft. In abenteuerlichen und liebesreichen Episoden verwickeln sich die Geschichten…
---
---
Erwartbar putziger Trailer zu Woody Allens neuestem Halt auf seiner Europa-Tour; nach London, Barcelona und Paris verschlägt's den Altmeister und mal wieder eine glänzende Besetzung diesmal nach Rom. Mit dabei sind Ellen Page (
Inception
), die dralle Penélope Cruz (
Volver
), Jesse Eisenberg (
The Social Network
), Alec Baldwin (
30 Rock
), Greta Gerwig (
Freundschaft Plus
) und Roberto Benigni (
La vita è bella
).
---
Relevante Themen in ChristiansFoyer
First Look (2): TO ROME WITH LOVE Poster
First Look: TO ROME WITH LOVE Photos
Bewerten & Teilen
---